We want to hear from you! If you are in a pinch and are in need of tree removal, stump grinding, tree trimming, or any service that we offer. We want to help you.  
4688 Elliot Rd
Buckley, MI 49620
AVAILABLE AT 6:30AM TO 7PM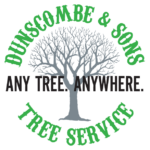 Contact Dunscombe Tree Service to help you with your next decision on tree removal, stump grinding, lot clearing, or the yearly spring & fall cleanups.  To contact Dunscombe Tree Service is as simple as picking up the phone to call us at 231-620-0764, emailing us directly at d[email protected], or simply filling out the form above.
Our services range all in Northern Michigan tree removal, stump grinding & lot clearing for both residential & commercial properties. At Dunscombe & Sons Tree Service we offer free estimates including 24 hours 7 days a week emergency services. Fully licensed and insured there is no job we can't handle. We are family-owned & operated with over 20 years of experience. We service customers all over Northern Michigan from Traverse City, Cadillac, Leelanau, Kalkaska, Mesick, Frankfort, Manistee, Interlochen, Buckley, Williamsburg, Manton, Northport & surrounding areas. Visit our FAQs page to answer any & all the questions you may have.